Celebrating General Francis Marion Rev. War Living History Encampment The Best: Feb. 24-25, 2012
Historic Swamp Fox Murals Trail ©2002 along Historic US 301 in Clarendon County, SC.
See all 26 historic presentations.
See Francis Marion related items for sale & monthly events.
Maps to locate Clarendon County & Swamp Fox Murals
Promoting history through Murals (in Manning, Paxville, Summerton & Turbeville) of The Swamp Fox,
General Francis Marion's encounters with the British in 1780-81 in St. Mark's Parish, now Clarendon County, SC.


©2001
Swamp Fox at Ox Swamp Mural, Manning, corner of Boyce & Boundary, Manning
In the American Revolution, Nov. 8, 1780, Gen. Francis Marion and his militia lured British Col. Tarlatan & his Green Dragoons about 26 miles from Jacks Creek through the swamps to Ox Swamp. After spending 6 hours in this pursuit, Tarlatan gave up the chase saying "as for the old fox (Marion), the devil himself could not catch him." Thus, Gen. Marion became known as the "Swamp Fox".
This mural is made possible by the citizens of Clarendon County and Manning to promote heritage tourism throughout the county.
Artist is Will Anderson of Stateburg, SC, 2001. Come to Manning for more Swamp Fox murals.
Follow the Swamp Fox Murals Trail on Historic US 301: Manning, Paxville, Summerton & Turbeville
Follow a treasure hunt to find mural, GPS coordinates given.
NEW: Artists Welded
Sculpture of History:
"The Swamp Fox Sets an Ambush" unveiled
at FE DuBose Campus/CCTC, I-95, exit 122, April 18, 2012.
Thanks to the CCTC & FE DuBose welding student artists,
Axel Reis, the Bank of Clarendon and Swamp Fox Murals Trail.
New Ox Swamp Marker where Marion got
"Swamp Fox" moniker near Pocotaligo Swamp 3-2-2012
Ms Land, Dr. Hardee, Chairman Stewart, Mayor Nelson.
Historic Marker: http://www.hmdb.org/marker.asp?marker=51985
Follow Pocotaligo Nature Walk signs.
Santee National Wildlife Refuge
and Santee Indian Mound
I-95, Exit 102, Summerton, SC.
Historic U.S. 301 - "Highway to Southern Living" - Named Swamp Fox Trail in 1925
Take a break from Interstate 95 and enjoy a relaxed, slower pace
as you follow historic U.S. 301 through Clarendon County.
Visit the Swamp Fox Murals Trail & see Revolutionary War history sites.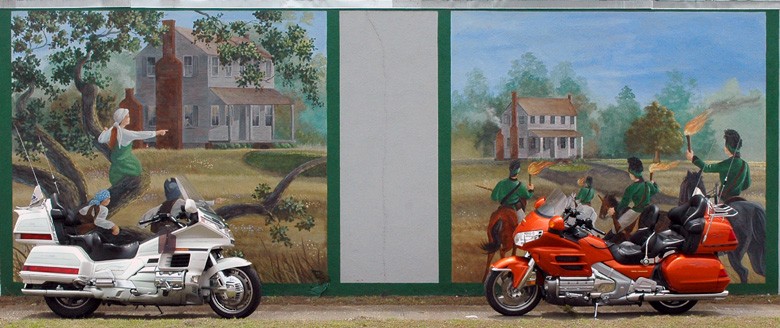 Exit 135 – Turbeville: Follow US 378 East:
Battle of Tearcoat Swamp (Middle of the night at Tearcoat Swamp, 1780) Mural
New Murals: Traitor to "Friend" Mouzon, burned his home 4 Murals
Puddin' Swamp as the Frontier in 1776 Mural
Turbeville Veteran's Memorial Park
Exit 132 – Sardinia: Midway Presbyterian Church from 1802; Three McFaddin Plantation Homes, earliest was built before 1780
Exit 122 – Alcolu
US 521 West: Town of Alcolu founded in 1885 as a mill town for Alderman Lumber Co.
The company store was built in 1914 and is used for antiques.
Exit 122 – Manning: US 521 East:
Welded Sculpture: "The Swamp Fox Sets an Ambush" at FE DuBose Campus/CCTC
Exit 122 – Manning: US 521 East: (left side) Pond Bluff to St. Stephen's
(Francis Marion, Mary Esther & Oscar) 1790 - 3 Mural
US 521 East: (right side) Ambush at Half-Way Swamp (Francis Marion & Oscar oversee) 1780 - Mural
Francis Marion, the Swamp Fox, bursts forth - Mural.
Francis Marion - Reflections - 2 blocks West - Mural
Exit 119 – Manning (Wow Exit with 2 fountains): SC 261 East:
Swamp Fox at Ox Swamp (Gen. Marion enticing Tarleton, 1780) - Mural
Francis Marion Statue by Barinowski, Courthouse Square opposite the clock.
Citizen Soldier (Marion & Oscar call to the National Guard of 1780) - Mural
Bridges Campaign or Watson Chase: Battle of Wyboo Swamp, 1781 - 3 Mural
NEW Clarendon County Museum and History Center, 102 S. Brooks Street, Manning
Wolfe House, built in 1855, is the oldest home in town.
Old Manning Library can be traced to 1880 and is the Archives and History Center for
Clarendon County with bronze Amelia Bedelia next door.
Clarendon Court House sits on the spot selected in 1855 as the center of the county.
Ox Swamp is where Gen. Francis Marion got the nickname of "Swamp Fox" during the Revolutionary War.
Historic Marker: http://www.hmdb.org/marker.asp?marker=51985
SC 261 West: Paxville: Chase from Richbourg's Mill to Ox Swamp, 1780 - Mural
Exit 115 – Manning / Summerton & US 301 crossing , turn north to Manning for 10 murals or south to Summerton for 8 murals.
Exit 108 – Summerton: Main Street North to South on US 301:
Home in the Backcountry (Frontier Woman) in the American Revolution, 1780 Mural (removed 2008)
Patriot Departs to Ride with Marion 1780 Mural
Wagon Travel 1780 Mural
Siege of Fort Watson: 4 postcards showing the events at Fort Watson 1781 4 Mural
The Patriot and The Redcoat, The Chase Is On 2 Murals
Liberty Hill AME Church: origins of Briggs-DeLaine-Pearson & Briggs v. Elliott
North on US 15 crossing SC 261 at Paxville: Chase from Richbourg's Mill to Ox Swamp Mural
Exit 102 – Lake Marion / North Santee, US 15 / US 301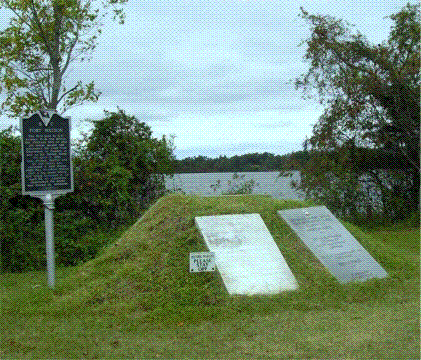 Historic Marker: http://www.hmdb.org/marker.asp?marker=51477
Santee National Wildlife Refuge / Fort Watson / Santee Indian Mound.
Native American Indians used the area for hundreds of years and 500 years ago built the ceremonial mound. The Indian mound was topped in 1780 by a British fort which was taken by the Americans under General Francis "Swamp Fox" Marion and Harry Lee from Virginia in 1781. At Santee National Wildlife Refuge, the Visitor Center houses at variety of nature displays and on the lawn is the Marion Stone. "History will record his worth, and rising generations his memory, as one of the most distinguished Patriots and Heroes of the American Revolution which elevated his native Country to Honour and Independence, and secured to her the blessings of Liberty and Peace. This tribute of veneration and gratitude is erected in commemoration of the noble and disinterested virtues of the citizen and gallant exploits of the Soldier who lived without fear, and died without reproach."


©2002
Siege of Fort Watson Mural
During the American Revolution, Colonel Lee's Legion of Virginia joined General Marion's Brigade along the Santee River. They laid siege to British-held Fort Watson on top of Santee Indian Mound. Major Maham's idea was to build a tower for sharpshooters to fire inside the fort. After days of chopping saplings, they erected the tower overnight. April 23, 1781 at dawn firing from the tower led to rapid surrender of Fort Watson.
This mural is made possible by the citizens of Clarendon County and SC Public Service Authority (Santee Cooper) to promote heritage tourism throughout the County.
Artist is Will Anderson, Stateburg, SC, 2002.
Come to Summerton for more Swamp Fox murals.
Follow the Swamp Fox Murals Trail on Historic US 301:
Summerton, Paxville, Manning, Turbeville

©2002
Battle of Tearcoat Swamp Mural, Turbeville, adjacent to US 301


This mural is made possible by the citizens of Clarendon County and the town of Turbeville to promote heritage tourism throughout the county. Artist is Will Anderson, Stateburg, SC, 2002. Come to Turbeville for more Swamp Fox murals.
Follow the Swamp Fox Murals Trail: Turbeville, Manning, Paxville, Summerton
Do a treasure hunt to find this mural
"The American Revolution was won in the South in what is called the 'Civil War' phase."
Santee Indian Mound/ Fort Watson *C-3
National Register of Historic Places - 1969 Historical evidence used for the "Archeology at Scott's Lake, 1973" and Wanton, 1939, support the ancient Indian Province of Cofitachiqui being located at the upper part of the Santee River. Records and maps from 1540's show that Cofitachiqui was at Scott's Lake, now Lake Marion, or near Pine Island Unit of Santee NW refuge.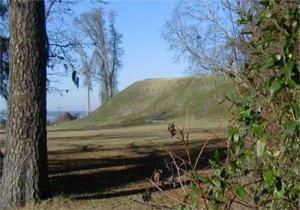 Santee Indian Mound was constructed as a ceremonial and burial mound and there were many mounds in this area. These mounds served as sub-structure platforms for ceremonies almost 800 years ago. Santee Indian Mound is included as part of the Santee National Wildlife Refuge. A current Santee Indian Chief visited this site many times in 2000-2002. The British built the fort on the mound because of its strategic location. The British used it during the Revolution to control movement on the Santee River as well as the main road between Charleston and Camden. In the third and final battle of Fort Watson, this was the first post in South Carolina retaken from the British. On April 15, 1871, General Francis Marion and Lt. Col. Henry "Lighthouse Harry" Lee encircled the fort and after 8 days of futile small arms fire, Major Hezekiah Maham constructed a pine log tower of sufficient height to overlook the defender's stockade. On April 23, 1781, the Americans mounted an attack from the tower and from the ground which lasted only a short time. Lt. McCoy surrendered the fort, its garrison and supplies to General Marion, the "Swamp Fox". (Located west of I-95, Exit 102, US 301/15 to County Road 803, 9 miles SW of Summerton.)
Pocotaligo Swamp Trail/Nature Walk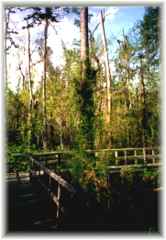 (Currently in need of repair, which is planned soon) The Pocotaligo River has headwaters in Sumter County in streams such as Green Swamp, Piccolo Creek, Nasty Branch, Bunsen Swamp, Long Branch and Hatchet Camp Branch. It flows across Clarendon County to join Black River, flowing into Williamsburg County. Pocotaligo moves through miles of concealed silent swamps, wild and shrouded secrets since the days of the Indians, its wildlife sequestered. Glimpse into its murky magnificence from a boardwalk trail at a small park on the north edge of Manning.
Access: From downtown Manning go North on US 301 for 1.6 miles to an entrance on Left, South of the river's bridge. From the parking and picnic area, follow the signs to the Boardwalk. This 1/2 mile boardwalk allows visitors to see native trees such as black gum, bald cypress, water tupelo, bay, willow oak and red maple. Wildlife includes wood ducks, songbirds, amphibians and an occasional glimpse of a reptile. Do a treasure hunt to find the nature walk: 33° 42' 51" N 80° 12' 04" W Historic Marker: http://www.hmdb.org/marker.asp?marker=51985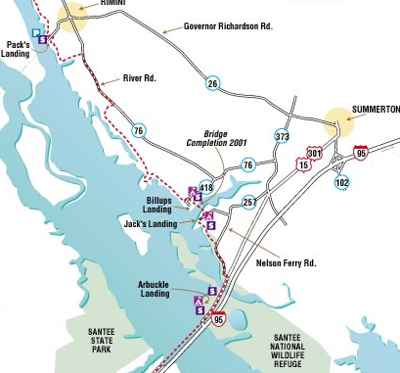 Palmetto Trail
From the mountains to the sea
(Click on this map for larger map)
"See wildlife at its best"
The Lake Marion Passage of the Palmetto Trail is officially designated, August, 2000, in Clarendon County. By the end of 2006, the total mileage of the Trail across SC to more than 225 miles. This over 30 mile passage of the Palmetto Trail skirts along the high-water mark of the north side of Lake Marion. After crossing Lake Marion on Historic 301 bridge, the Lake Marion Passage winds along the high water mark of the lake, along Old River Road, between Fludd's Mill and the 'hauntingly beautiful cypress lagoon' Elliott's Mill Pond and behind SC Waterfowl Association. Commercial campsites along the trail include Jack's Creek Marina & Carolina King Resort, so hikers and bikers can stay on the trail for extended periods. Trail users will enjoy some of the most magnificent vistas in the Lowcountry with opportunity to spot abundant wildlife and colorful flora. Users have the possibility of encountering poisonous snakes and/or large alligators along the lake's edge. Only hikers and bikers may use this section of trail. The Lake Marion Passage is marked by yellow blazes in Clarendon County. Hikers and bikers should wear bright colors during big game hunting season, which is from the middle of August through January.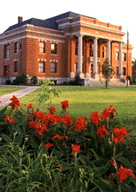 Clarendon County Courthouse, Town Square, Manning *C-23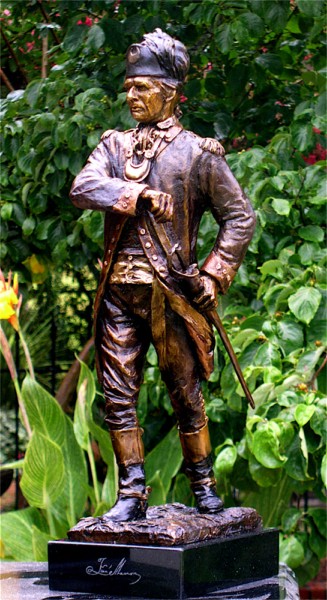 "Manning. The prettiest town from Maine to Miami."
Walter Winchell, Newspaper Columnist
Five SC governors have come from this area, which was part of the Parish of St. Mark (1757) and Camden District (1769) before becoming Clarendon County in 1785. The county was then part of Sumter circuit court district (1799) before becoming Clarendon District (1855) and finally Clarendon County again in 1868. This Clarendon County Courthouse, built in 1908-09, stands on the spot selected as the center of the county in 1855. The first Courthouse was erected in 1856 and burned in 1865. The next Courthouse was erected in 1878 and removed in 1908 to make room for the current structure. This building was renovated in 1970. In the building are plaques to the memory of Chief Justice Taylor Hudnall Stukes, Justice James Hugh McFadden, and General Richard Richardson. On the grounds are a number of monuments. Our Francis Marion statue is on the NorthWest corner of Courthouse square in the Edward Jones window.
The Old Manning Library *C-20
National Register of Historic Places - 1979
The Old Manning Library, an imposing square brick building on Brooks Street, was built in 1908 by the same architects who built the present Clarendon County Courthouse. It is unique with a high domed sky-light. Entering through the double doors, one steps into an octagon shaped room, with four small rooms forming the corners.
Clarendon County Archives and History Center beautifully utilizes this historic site. The Amelia Bedelia statue arrived next door in 1999 at the Harvin Clarendon County Library, reminding us Peggy Parish, her creator, was from Manning.


Santee National Wildlife Refuge
Cuddo Unit
Over 10 miles of roads and 3 miles of foot trails bring wildlife up close. This Visitor Drive is open for everyone to enjoy the Refuge, along the Lake Marion north shore. Wildlife viewing, walking, studying and photography are encouraged. Bank fishing is permitted April - September. Cuddo Unit is closed Saturdays during September - December. Primitive weapons hunting is allowed by permit during October. Follow Cuddo Unit, SNWR & John C. Land III Landing signs to the Cuddo Unit.
Richardson Cemetery *C-2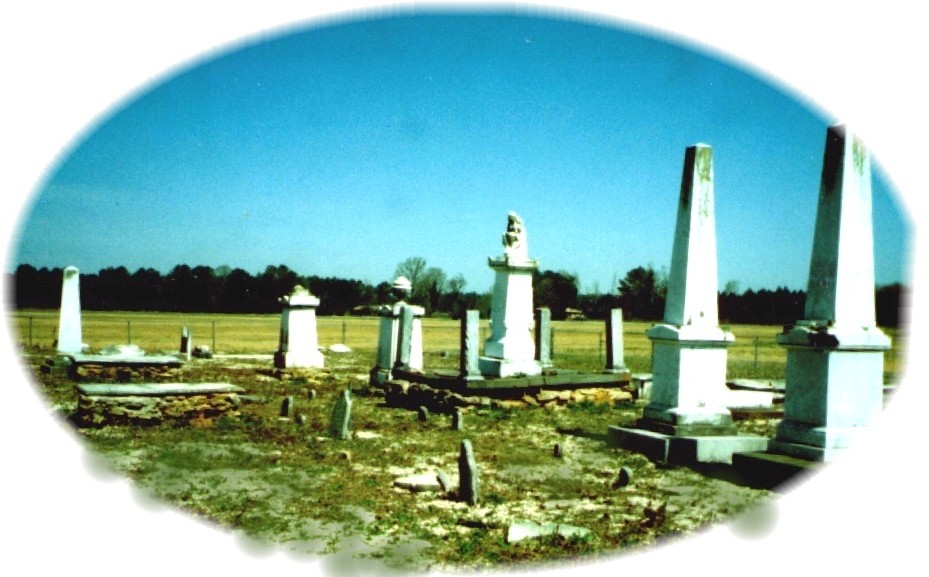 Cemetery and historical marker are located on County Road 76, approximately 3 miles SE of Rimini, from
I-95
, exit 108, west of Summerton. One of the most historic & earliest graveyards in St.Marks Parish, Richardson Cemetery, was founded prior to the
Revolutionary War
. In an attempt to force information concerning Francis Marion's whereabouts from the widow, of General Richard Richardson, Banastre Tarleton, a British general, compelled the widow, Dorothy, to dig up the body of her husband laid to rest six weeks earlier. Buried here also are Governors James Burchell Richardson, and John Peter Richardson (founder of the Citadel). The most Governors to ever be elected from one family were from the Manning/Richardson family of Clarendon County. Ground penetrating radar also found "Snowdrop", the horse, buried here. General Richard Richardson married his first wife Mary Cantey (Mary, 1722-1769, daughter of William or Josiah) on October 11, 1736 when this area was Prince Fredrick Parish. Below is the inscription for him and Dorothy Sinkler Richardson, his second wife.
"Sacred to the memory of

General Richard Richardson

who departed this life
September 1780 Aged 76 years

He died while a prisoner and under the
parole of the British who permitted
him in his illness to leave John's
Island where he was confined to close
the last moments of his life in the
bosom of his numerous family.

Beneath this marble his venerated remains
repose which is erected to his memory by
James Burchill Richardson
his eldest son by his 2nd and last marriage."

"Sacred to the memory of
Mrs. Dorothy Sinkler Richardson
Relict of
General Richard Richardson
who died 6th of July 1793
Aged 56 years
She was pious and exemplary, distinguished
in mind and manners and eminently discirnable
in the highest societies in which she
associated. This marble which designates
the place where her remains rest is erected
to her memory by her eldest son James B.
Richardson who early bereft of paternal care
feels that he is indebted to her maternal
care and attentions to her vigorous and
persevering mind of firmness and determination
Surpassing description and to her vigilant and
Enlightened instructions for being all that he is in life."
Half-Way Swamp (modern name Elliott's Mill Pond) and Historic Marker: http://www.hmdb.org/marker.asp?marker=51466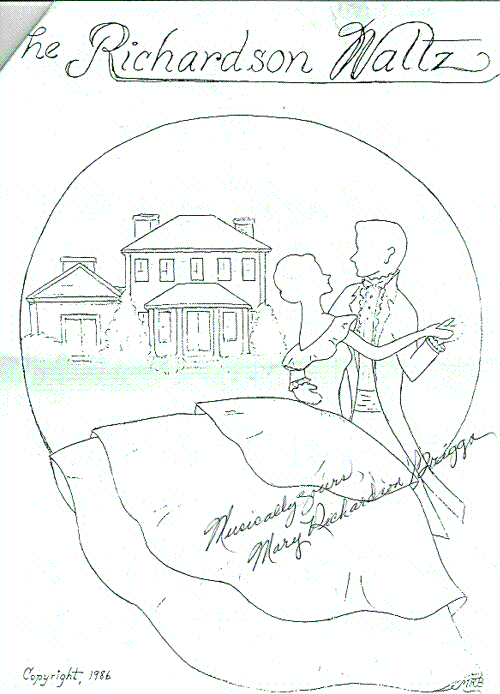 In the spring of 2000 "The Richardson Waltz" became the official South Carolina waltz.
Mary Richardson Briggs of Clarendon County put the notes on paper for the first time in the 1980's.
It had been handed down by ear from one generation to another for more than 200 years
in the family of General Richard Richardson of the Snow Campaign and the Revolutionary War.
Santee National Wildlife Refuge
Established in 1941, the Santee National Wildlife Refuge has 15,095 acres: 1,425 acres of cropland, 2,350 acres of forest, 9,000 acres of open water, and 2,320 acres of shallow impoundments, ponds, marsh and swamp. Santee NWR was established to provide habitat and protection for migratory waterfowl and endangered species. In addition, the refuge provides opportunities for environmental education, interpretation and wildlife oriented recreation for visitors. The four management units of the refuge (the Bluff, Dingle Pond, Pine Island and Cuddo Units) stretch across 18 miles adjacent to the northern shore of lake Marion.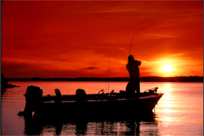 Approximately 100,000 ducks and 12,000 Canada geese winter at the refuge, and more than 200 other species of birds live there or visit. Mammals include bobcat, deer, raccoon, squirrel, mink, otter and fox. More than 100 species of fish there include chub, shiner, sucker, sunfish, bass, perch, sturgeon, gar, shad, pike, catfish, swampfish, silverside, crappie, needlefish, mullet and sole. January is the peak month for Canada geese and mallards. In February there is an increase of wood ducks, purple martins and bluebirds. Alligators have been sunning on some of the canal edges in March. April and May are excellent months for fishing. In August the summer warblers begin to migrate south, but September is the peak month for migratory songbirds. Rubycrowned knights, white-throated sparrows, finches, cormorants, hawks and bald eagles are seen in October and November.December is a good month to spot whistling swans and to fish for largemouth bass, catfish and striped bass. Sport fishing is permitted year round, but specific waters are closed from November 1 through February 28. Located west of I-95, Exit 102, US 301/15 to County Road 803, 9 miles SW of Summerton.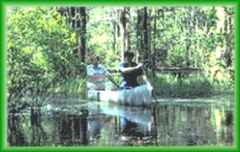 Woods Bay State Park has 1, 541 acres, most of which are open savannah near the pointed end of the egg-shaped bay, and dense cypress swamp elsewhere. At the edge of the bay are sandy flats with loblolly pines and turkey oaks, and on the north side adjacent to the bay is the Mill Point Pond. The park was named after Andre Woods, who once owned a gristmill at the pond. Wildlife is prominent, including numerous species of wading, perching birds. The land was purchased in 1973, and the facilities include nature study, canoeing, picnicking and fishing. Located east of I-95, Exit 135 to US 301 north of Turbeville.
The Wolfe House, 14 Keith Street, Manning *C-24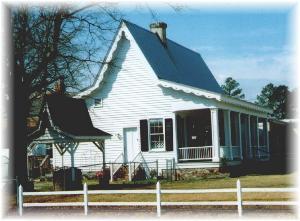 One of the oldest and most interesting houses in Manning is the Wolfe House, located at the intersection of Keitt and Church Streets. It was built shortly after the town was established in 1855. It was first located at the corner of Keitt and Brooks street and was moved to its present site in 1896. The property changed hands many times and was bought in 1964 by Joe P. Moore, who restored the house to its original appearance. The current owner is Linda Mills, of Flowers de Linda's. It still contains the original flooring. Most of the heavy dark shutters, especially the ones at the front of the house, were on the building in 1899. Among other original features are the interchangeable windows, the old-time steep roof and pine siding, as well as the nails, which were all made by hand by the village blacksmith. To add authenticity, a covered well was built in the side yard. A hitching post and carriage step stand at the curb of this old dwelling.
Liberty Hill AME Church: Origins of Briggs-DeLaine-Pearson
Civil rights leaders Harry Briggs and Joseph A. DeLaine were born in Clarendon County. Their home church, Liberty Hill Church, at St Paul, was instrumental in the landmark de-segregation case that was combined into the Brown vs the Board of Education Supreme Court case of 1951-1954.
Carolina Bays: Bennett's Bay & Dingle Pond (Carolina Bay)
Bennett's Bay & Dingle Pond (Carolina Bay part of Santee National Wildlife Refuge) are in Clarendon County. There are hundreds of shallow, elliptical depressions known as bays in the state's coastal plains. The bays always are egg-shaped, aligned from northwest to southeast and have a sand ridge that's usually visible on the southeast side. Some of the depressions are dry; others are swamp, and a few others are beautiful lakes. They range in diameter from a few hundred feet to five miles. 'These things are priceless. They hold moisture in times of drought and slowly release it to the surrounding area. They are an oasis for wildlife." Attempts to explain this natural phenomenon - unique to the Carolinas - include the meteorite theory (the most accepted theory), the ancient springs theory and the ancient ocean lagoons theory.
Battle of Wyboo Swamp Site & Historic Marker: http://www.hmdb.org/marker.asp?marker=51986 , just north of Santee Dam, Patriots Road.
Santee Dam *C-46
"Lake Marion is rated one of the top 5 freshwater fishing lakes in the world."
Approximately 15 miles S. of Manning on Hwy. 260, Santee Dam is the most sizable earthen dam in South Carolina - 8 miles long. Lake Marion is named in honor of General Francis Marion, the Revolutionary War hero, "The Swamp Fox".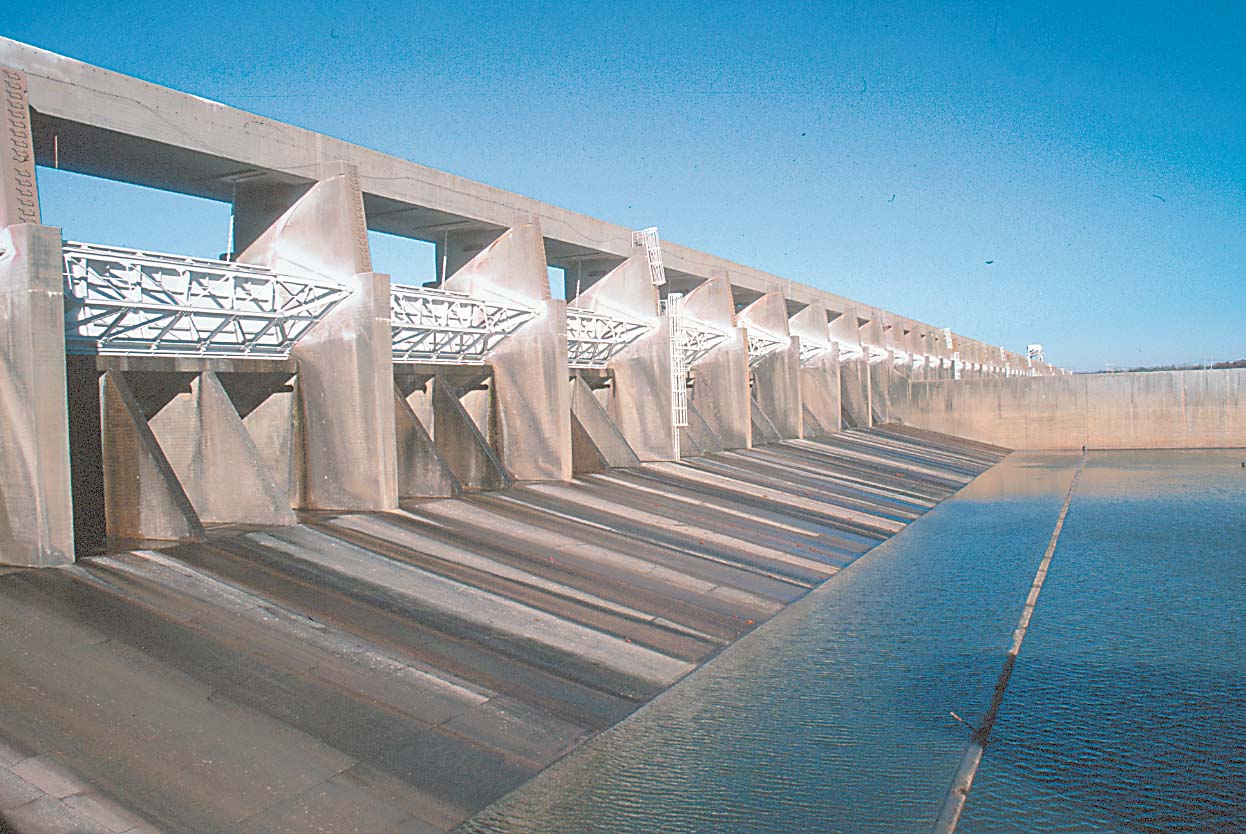 The upper of the two reservoirs, it comprises 110,600 acres of water. Lake Moultrie, larger than the Sea of Galilee, comprises 60,400 acres and is the lower and smaller reservoir. It is named after General William Moultrie, another Revolutionary War hero, who also designed the State Flag of South Carolina. The 7 1/2 mile long Diversion Canal connects Lake Marion and Lake Moultrie. The Santee Dam and Spillway, completed in November, 1941, has 62 taintor gates in the Spillway section. Lake Marion and Lake Moultrie, since their completion in 1942, have drawn ever-increasing numbers of fishermen seeking the many kinds of fish that abound there,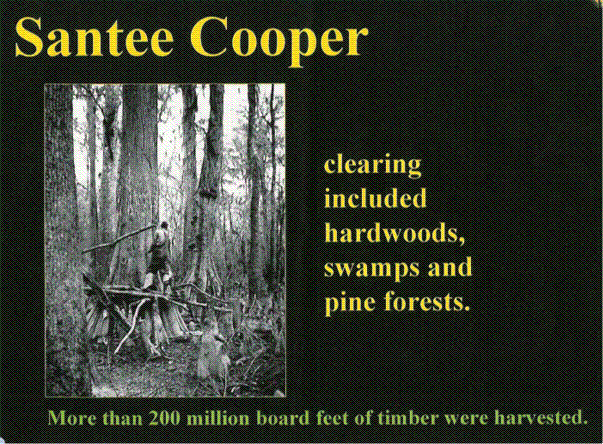 in particular the Striped Rock Bass, normally an ocean fish. When the dam gates were closed, the stripers were landlocked in the reservoir and began to produce in the fresh waters. Some weigh up to 50 lbs. Countless vacation cottages and homes have been built along the 475 miles of shoreline. Santee Cooper Country is important today for its value to sportsmen and for the electric power it was built to produce. Thus - for all practical purposes - the Santee Cooper Rivers are now one and the same except during the discharge of major flood waters. (Photos Courtesy The Manning Times ©2000 & Santee Coooper)
Clarendon County History Highlights

Clarendon County, named for Edward Hyde, Earl of Clarendon, one of the Lord Proprietors of Carolina, was identified since 1732. It has produced five (Manning/Richardson family) governors of the state. It figured heavily in the

Revolutionary War

campaign of

"The Swamp Fox,"

General Francis Marion, and is where he earned the "Swamp Fox" designation. Many of the first settlers were French Huguenots and many early ones were farmers. The county seat is Manning, named for John Laurence Manning, Governor of South Carolina from 1852-1854, and is the geographical center of the county.

Among the famous women who have called Clarendon County home are Anne Curtis Burgess who composed the music to the state song "Carolina," written by Henry Timrod; Althea Gibson, the first black woman to play tennis at Wimbledon; Peggy Parish who wrote the"Amelia Bedelia" series of children's books; Marion McKnight, Miss America 1957; Ann Worsham Richardson and other famous artists. Civil rights leaders Harry Briggs and Joseph A. DeLaine were born in Clarendon County.

Davis House/El Recuerdo (1843)
National Register of Historic Places - 1983 SC Road 63/Racoon Road, South of Manning
Alderman's 20 Stores in One (1919)
National Register of Historic Places - 1994 34 & 36 Brooks Street, Manning


Summerton High School (1936)/Clarendon One Cultural Arts Center

National Register of Historic Places - 1994 S. Church Street, Summerton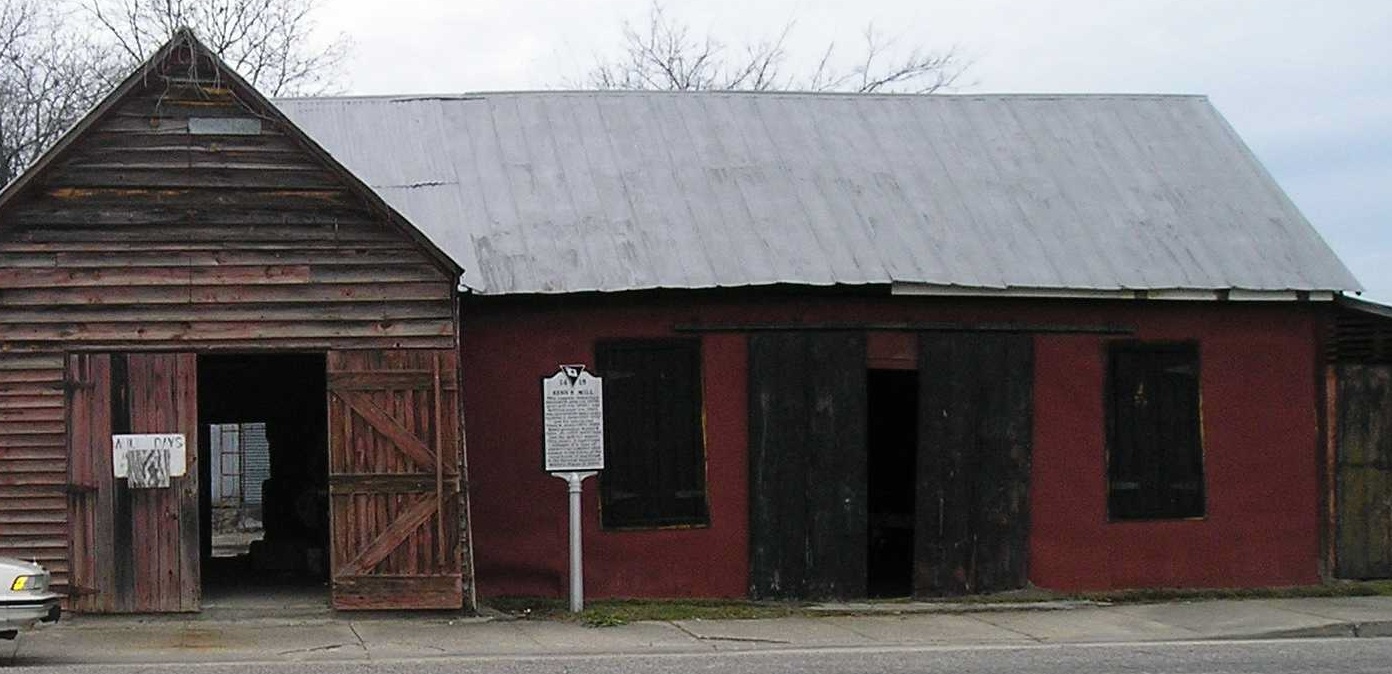 Senn's Grist Mill, Blacksmith Shop & Summerton Drink Bottling Plant
National Register of Historic Places - 2000
9 Cantey Street, Summerton (I-95, exits 108 or 115)
This complex is a significant example of a type of commercial enterprise once common in small towns of the rural South. This complex features a a blacksmith shop (ca. 1903), grist mill (ca. 1905), and bottling plant (ca. 1921) and was operated by the Senn family members (John G., Frank W. Josey, and Walter B. Senn, Jr.) for nearly 100 years.
Alcolu Sawmill & Burke Brothers Store, Alcolu (I-95, exit 122) *C-15
Alcolu was est. between 1885 & 1890 as a mill town for the Alderman lumber co.
As a company town, everyone worked at the mill, took babbit to the company store
& could buy groceries, see the doctor or watch a show in the 200 seat
theater upstairs. The store looks like early 1900's & has antiques.

Note: *C #s are Historical Tour Guide Map Signs
Historical Tour Guide *
Visit over 50 historical sites with the Tour Guide Map, available at the
For more info or questions, contact:

G Summers: 803-478-2645 or email gcsummers@ftc-i.net