General Francis Marion Swamp Fox American Revolutionary War General Francis Marion Swamp Fox Clarendon County SC
History: Clarendon County, named for Edward Hyde, Earl of Clarendon, one of the Lord Proprietors of Carolina, was identified since 1732. It has produced five governors of the state. It figured heavily in the Revolutionary War campaign of "The Swamp Fox," General Francis Marion, and is where he earned the "Swamp Fox" designation. Many of the first settlers were French Huguenots, and many early settlers were farmers. The county seat is Manning, named for John Laurence Manning, Governor of South Carolina from 1852-1854, and is the geographical center of the county.
Among the famous women who have called Clarendon County home are Anne Custis Burgess who composed the music to the state song "Carolina," written by Henry Timrod; Althea Gibson, the first black woman to play tennis at Wimbledon; Peggy Parish who wrote the"Amelia Bedelia" series of children's books; Marion McKnight, Miss America 1957; Ann Worsham Richardson and other famous artists. Civil rights leaders Harry Briggs and Joseph A. DeLaine were born in Clarendon County. In the spring of 2000 "The Richardson Waltz" became the official SC waltz, having been written down by Mary Richardson Briggs only shortly before. It was handed down by ear from one family member to another for more than 200 years in Clarendon County in the family of Revolutionary War General Richard Richardson.
National Historic Register Sites in Clarendon County: Santee Indian Mound (ca. 1200-1500 AD) & Fort Watson (1780), the Old Manning Library (1909), Davis House/El Recuerdo (1843), Alderman's 20 Stores in One (1919), Summerton High School (1936)/Clarendon One Cultural Arts Center, and the most recent entry, Senn's Grist Mill (1905), Blacksmith Shop (1903) & Orange Crush Bottling Company (1921).
Historic Swamp Fox Murals in Clarendon County, SC
General Francis Marion Swamp Fox American Revolutionary War General Francis Marion Swamp Fox Clarendon County SC
More than 24 murals show General Francis Marion's encounters with the British in the 1780's
and the Southern Campaign right here in Clarendon County, SC in the American Revolution.

.©2001
( 1st Mural: Fire Station, Manning, west wall, 2001 )

Less than 1 mile East of here is Ox Swamp. In the American Revolution, Nov. 8, 1780, Gen. Francis Marion and his militia lured British Col. Tarleton & his Green Dragoons about 26 miles from Jack's Creek through the swamps to Ox Swamp. After spending 6 hours in this pursuit, Tarleton gave up the chase saying "as for the old fox (Marion), the devil himself could not catch him." Thus, Gen. Marion became known as the "Swamp Fox".
Artist's original concept and painting is by
Will Anderson of Stateburg, SC, 2001.
This mural is made possible by the citizens of
Clarendon County and Manning to promote heritage tourism.
Revolutionary History in Clarendon County, SC
with General Francis Marion, The "Swamp Fox"
"The American Revolution was won in the South in what is called the 'Civil War' phase."
Population: The population of the county is approximately 32,500. It is comprised of several towns:
Manning (est. 4025), Summerton (est. 1100), Turbeville (est. 600), Paxville (est. 250) and Alcolu.
Geography: Clarendon County is situated in the east central portion of South Carolina. Its land surface covers 599 square miles with Lake Marion covering an additional 95 square miles of the county. There are approximately 383,000 land acres in the county. Most of the county topography is nearly level to gently sloping and is predominately sand and loamy soils. About 1/3 of the county land base is used for cultivated agricultural crops, and about 59% is woodland. Go to Maps.
Climate: The people of Clarendon County enjoy a moderate, temperate climate, with very warm summers and mild winters. The average temperature in January is 46 degrees and in July 82 degrees. Average precipitation is 50 inches with a growing season of 225 days.
Agriculture: Forest products are major crops in the county with tobacco, cotton, corn and soybean major crops for traditional farming. One of the most important non-traditional crops is cucumbers. In recent years many of the county's farmers have increasingly switched to vegetables (greens, squash, tomatoes) for the fresh and canned markets. There are also a number of U-Pick farms throughout the county.
Airport: The Clarendon County Airport on SC 260 about 10 miles south of Manning is located next to Lake Marion (also used by seaplanes). It has one paved, lighted 3600 foot runway and accommodates small, private aircraft. The nearest airports serving major airlines are in Columbia, Charleston, Myrtle Beach, and Florence. Sumter, our neighboring county, has a 7000 foot runway and Shaw Air Force Base.
Highways: The county is served by Interstate 95; US highways 15, 301, 378 and 521; South Carolina State highways 260 and 261; and a well maintained network of county roads.
| | |
| --- | --- |
| Distance Chart | Miles from Clarendon County |
| Atlanta | 270 |
| Washington, D.C. | 430 |
| Miami | 615 |
| New York | 655 |
| Chicago | 815 |
| Dallas | 1,080 |
| San Francisco | 3,000 |
Shipping: Charleston Port Authority is located approximately 70 miles away, with access by rail, truck and water.
Newspaper: Clarendon County coverage is provided by a daily newspaper, The Item (based in Sumter County) and by 2 weekly newspaper, The Manning Times and The Clarendon Citizen
Television: Stations in nearby cities provide broadcast of major networks and Public Broadcasting Service. Cable television is available in the county.
Library: The Harvin Clarendon County Library is located in the town of Manning and a bookmobile services areas of the county.
Peggy Parish's own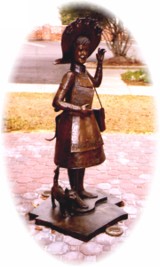 Amelia Bedelia, in bronze, stands outside the library.
Archives: The Clarendon County Archives and History Center (803-435-0328) 211 N. Brooks Street, Manning, located next to the library, provides history spanning more than 220 years.
Clarendon County Museum ( 803-433-0328) is open Thursday & Friday 10 - 4 and Saturday 10-2 at 102 S. Brooks Street, Manning, SC 29102

Churches: There are more than 110 churches representing most denominations. Free Will Baptist Home for Children at Turbeville provides care, support, and training for dependent and needy children.
Education: There are three public school districts and two private schools located in the county. Clarendon County has FE DuBose Career Center Campus at Central Carolina Technical College and universities located 20 and 50 miles away.
Recreation: Primary recreation includes golfing, fishing, hunting, boating and all water sports. Camp Bob Cooper (a S.C. 4-H Leadership Center) is used by numerous northern colleges for their rowing teams to practice sculling in winter.
Medical Facilities: The Clarendon Memorial Hospital is a general acute care hospital providing in-patient and out-patient services including medical, surgical, obstetrical and rehabilitative. The hospital offers intensive care, coronary care, 24 hour emergency care, laboratory, x-ray and same-day surgical services. Residents are served by physicians practicing family medicine, surgery and OB/GYN. The Cypress Center and THE ZONE, adjacent to the hospital, provide an exercise facility and health and wellness programs.
Industry: County residents are principally employed in manufacturing of agriculture, auto bearings and parts, digital components, hydraulic equipment, textiles, timber industry and service related businesses.
Accommodations: There are over 20 motels in the county with over 1,800 rooms. Lodging and camping is available along Interstate 95 and on Lake Marion. I-95 is adjacent to Historic US 301 which offers a comfortable view of Southern Living.
Restaurants: The county boasts a variety of restaurants offering everything from fast foods to country cooking and family dining.
Retirement: With its temperate climate, low cost of living and high quality recreation, Clarendon County is very attractive to the retirement community. Many retirees choose to live on or near the lake and others preferring the ease of small-town or golf course living.
Festivals: The Clarendon County Striped Bass Festival is held annually during the month of April. This week-long festival features golf and tennis tournaments, arts and crafts shows and sales, a parade, live entertainment, concerts, beauty pageants and much more.
The Pig Tales BBQ Cook-off Festival benefits the Clarendon Harvin Library.
Francis Marion Symposium
Francis Marion Living History Days Encampment
Weldon Auditorium

Cultural Events: The Back Porch Players, a group of local citizens, produce and perform a number of plays throughout the year. Contact Jewell Brown: 803-473-2677.
The Puddin Swamp Singers (inactive at the present), a 32 member group based in Turbeville, give performances of Broadway and classical music. Contact Nancy Goodman: 803-659-2317.
Civic Organizations: American Legion, Business & Professional Women, Civitan Club, Cultural Arts Council, DAR, Ducks Unlimited, Genealogical Society, Habitat for Humanity, Clarendon Historical Society, Jaycees, Lions Club, NAACP, National Council of Negro Women, Pilot Club, Rotary Clubs of Manning & Summerton, Ruritan Club, S.C. Waterfowl Association, SCV, UDC, and a number of garden clubs.